Please can you introduce yourself, and your role at Scintacor?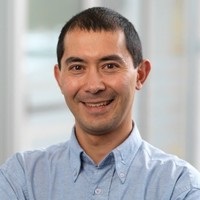 I'm Andrew Lee, and I joined Scintacor at the beginning of this year as CTO. My role is to manage and guide the technical teams here to provide support to our customers and to the rest of the business. We work on a range of initiatives, and every day is different. Our activities include developing new products tailored to customer applications, assisting with customer enquiries, and introducing new processes to our factory. My background is in managing teams in a technically challenging manufacturing and development environment. In addition to this, I am bringing to Scintacor a wide range of experiences in thin-film deposition, which is a technique that we use in our latest products.
Can you tell us a little bit about the history of Scintacor?
Scintacor is 100 years old this year! Founded in 1920 as Levy West Laboratory, we were one of the first producers of phosphors for x-ray screens. In our early days, we contributed to the development of radar by the use of our phosphors in the screens.
Over the years, our product range has expanded to include neutron detection glass, large area x-ray screens, and most recently micro-columnnar CsI for medical x-ray use.
In 2017 we moved to our world class manufacturing centre in Cambridge which is equipped with a 2700m2 class 1000 cleanroom, laboratories, and state-of-the-art ISO 9001 manufacturing facilities.
Can you tell us about the complete solutions that you offer?
Scintacor offer a wide product range to convert invisible particles or radiation into visible light to enable detection or imaging. Examples are
GS20 glass that interacts with neutrons to emit blue light.
Micro-columnar CsI available in a range of sizes on rigid and flexible substrates for high resolution X-ray imaging.
Phosphor coatings that fluoresce under UV, IR illumination for locating and profiling lasers
Large area phosphor panels for x-ray detection and imaging for security applications.
What are the main areas that your products are used in?
Our products find uses worldwide in medical and dental imaging, research laboratories, oil exploration, and security applications.
Do you have any personal highlights for first 4 months of working at Scintacor?
I have found it really rewarding see such a diverse set of products brought together under one factory roof. It really is amazing the variety of products that are produced here – from the manufacture and casting of molten glass for neutron detection through to the vacuum deposition of thin films of micro-columnar scintillators for medical X-ray applications.
On a personal note, I have found everyone at Scintacor to be extremely welcoming and helpful. They are an energetic and dedicated team focussed on developing and producing high quality products for use around the world.
Since you moved into this facility, what benefits you do you think have been bought for the company?
I hope that I have brought improved focus and structure to the Technical team at Scintacor. We have a group of highly skilled and motivated individuals – all extremely competent in their areas. My job is all about focussing those skills onto the priority areas to deliver results to our customers and the business.
Is there a core expertise that ties all your products together? What is that common thread?
We turn the invisible into the visible. Our various scintillators convert electrons, neutrons, X-rays, IR, and UV into visible light that can be imaged or detected by readily available techniques. Our physicists and Engineers are all experts in their fields and can advise on the suitability of our products to any customer application.
What do you provide for customers that they don't get elsewhere?
We have a small, agile team who can work quickly and flexibly to get to a solution. This means that customers can be reassured that there will be a personal response to any enquiry.
What makes you personally excited for the future of Scintacor?
I can see that Scintacor has a huge potential to grow its business and expand into new markets. Our strength is the range of technologies that go into our products, meaning that we work closely with a huge customer base, understanding each of the markets.
How much OEM work do you do compared to just selling your product?
Most of our products are OEM although we do have a significant level of sales of our CamIR product – an affordable digital camera capable of imaging in the IR region.
As an individual who likes the thought of addressing challenges, if you've got OEM requests from different industries or areas, would you consider working with those businesses beyond the few industries that you do already operate with?
Of course, our team has the expertise to advise and consult on any application that a customer comes along with. This usually starts with us arranging a conference call to discuss the application before we then propose a solution based on an agreed requirement specification.