MAKING THE INVISIBLE VISIBLE
Following a data centre accident with a high-power laser, in which a Network Engineer was injured, Scintacor was approached to develop a tool that could help prevent future incidents. This endeavour brought about the creation of the IRis Laser Safety Wand! Now written into the risk assessments and standard operating procedures for data centres around the world, the IRis is a critical tool for protecting personnel and infrastructure.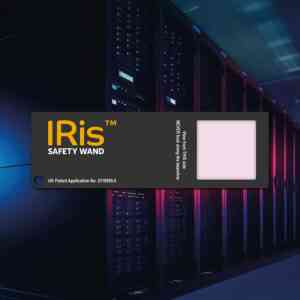 The powerful lasers that run through cables are invisible to the naked eye. IRis (Infra-Red Intelligent Scintillator) works by making the invisible, high power IR laser light, commonly used in DWDM systems operating in S / C / L bands at around 1500nm, visible. Further, IRis deliberately prevents the mis-registration of false positives of lower power lasers also used in data centres. The IRis enables engineers to validate that the high-power laser has been de-activated before they start work on an optical fibre or connector whilst still allowing the lower power lasers to operate. IRis is a portable, robust, lightweight tool that requires no power and is very simple to use.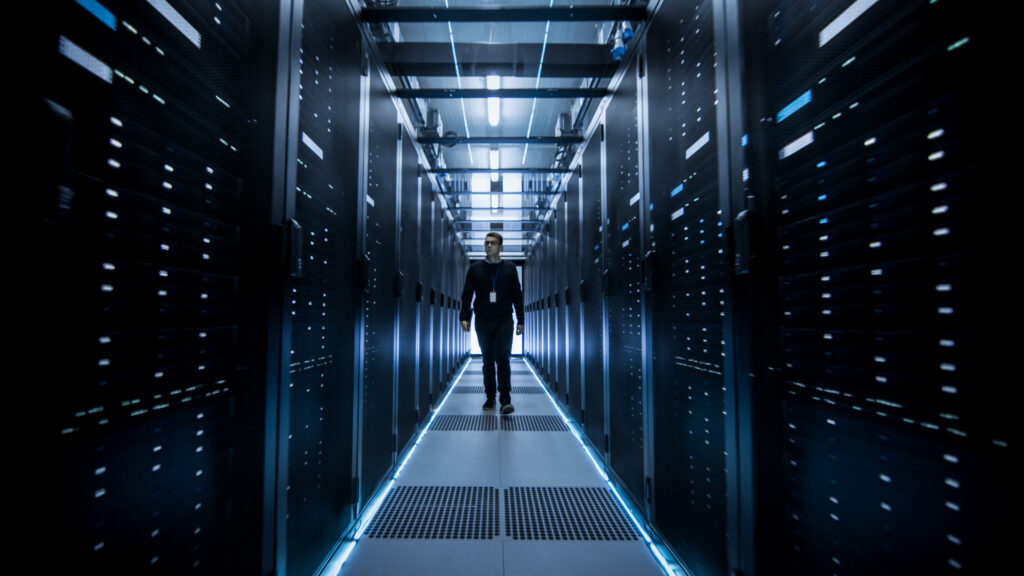 LASERS WITHIN DATA CENTRES
While many lasers are harmless, some are extremely powerful. Because of their processing requirements, many data centres use lasers with a power high enough to cause damage to infrastructure or people (up to 1 watt). Some Lasers have the potential to set fire to paper, burn through materials, or cause instant, serious, and life-long harm to people-especially if pointed at the eyes.
The powerful lasers that run through fibre optic cables are invisible. Without the help of specially designed tools, Network Engineers cannot detect if the lasers are inactive before interacting with cut or disconnected cables. Though Data centres already implement Method of Operations Procedures (MOPs) to ensure that high-powered laser beams are switched off before an Engineer starts work, including measures such as control-restricted doors or tools that clamp onto fibres to help detect the presence of lasers, there is still a risk that the lasers are active. IRis removes this risk by providing a device that can be held up against cut cable fibres from a reasonably physical distance to instantly verify that a high-power laser is not active.
"High-powered laser applications are used across multiple industries, from telecoms and medical equipment to manufacturing. Any company that orders a product with a high-powered laser should see this wand sitting in the delivery box. It is an elegant, cost-effective solution to a very high-risk safety problem, and we are excited to see what the future holds for this innovative tool." – Field Network Engineer
THE SOLUTION-IRis SAFETY WAND
Scintacor is proud to have designed, patented, and manufactured this important safety product. Key attributes include:
Large Active Area accommodates fibre bundles up to 34mm diameter
Portable, lightweight, and robust, the wand comes on a lanyard, so that it is easily carried and always within reach
Non-reflective surface minimises the risk of injury from stray reflections
Ready to use- No batteries or power needed
Soft interior protective pouch for safe storage
Customisation is available to support company branding or safety messaging
"We have had the pleasure of developing our products for many different clients and applications over the years. By delivering a laser detection wand that ticks all the boxes for data centres and helps keep their staff safe, we have got an exciting, highly effective product that the whole industry can benefit from." – Andrew Lee, CTO at Scintacor.
For more information about the IRis Safety wand, or other Scintacor products, please contact info@scintacor.com
ABOUT SCINTACOR
With over 100 years of experience, Scintacor is the leading supplier of area scintillators for the conversion of different types of radiation into light. We are known for being at the forefront of phosphor and scintillation technology. We manufacture a diverse range of products for applications such as medical and dental X-ray imaging, industrial quality control, neutron detection, oil well logging, mail, baggage and cargo inspection, analytical instrumentation, and laser detection. 
Scintacor is the trusted technology provider and strategic supply chain partner to its customers by offering the latest, high-performance scintillation technologies for imaging and detection, consultancy, and technical advice to select the optimum solution for each application, and fast prototyping to enable a short product cycle. 
Media Contact:
Diane Brau – Group Communication Manager
DBrau@tibidaboscientific.com